We have rounded up some of the tastiest pumpkin recipes around to give you the ultimate pumpkin recipe bucket list to test out this fall! And we've got a little bit of everything! We have indulgent desserts, sides, and savory entrees, keto and low carb options, vegan, and gluten-free recipes that everyone will enjoy!
PUMPKIN RECIPES: SWEET TREATS
These super moist pumpkin chocolate chip bars are superior to pumpkin chocolate chip cookies and pumpkin chocolate chip bread. No fuss pumpkin recipe and the perfect treat for this fall!

Light, delicate and naturally gluten-free and low in calories! The perfect little indulgence whether you're watching your waist-line or not!
This decadent creme brulee recipe is perfect for any fall celebration. Made with a homemade salted caramel pumpkin sauce, this is a dessert you'll find yourself making every autumn.
Use up extra canned pumpkin and day-old croissants in this satisfying bread pudding recipe. It's perfect for breakfast or dessert, even with a generous scoop of vanilla ice cream plopped onto a slice of warm-from-the-oven bread pudding.
Simple and delicious mini pumpkin cheesecakes, spicy gingersnap crust, and a delicious slated caramel topping for the perfect mini bite! We love pumpkin recipes in miniature form!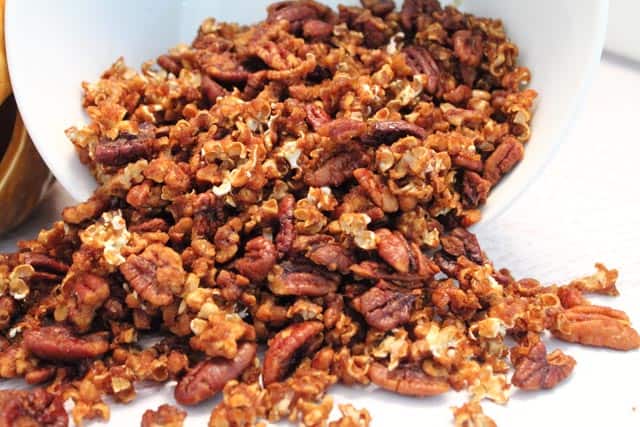 The perfect popcorn for fall! Easy to make Pumpkin Caramel Popcorn takes your popcorn to the next level. Flavored with pumpkin puree, pumpkin spice, maple syrup and caramel, it makes a sweet crunchy snack and sure to be a hit when movie night rolls around.
Thin layers of phyllo sheets with a wonderful and easy pumpkin spice and cream cheese filling folded into triangles. These mini pastry triangles are going to become a hit, especially during the fall and pumpkin season! The ultimate pumpkin recipe!
No bake pumpkin pie with Marshmallows is a sweet and creamy twist to classic pumpkin pie. Marshmallow, cool whip, and pumpkin combine to make a delicious pumpkin pie in a store-bought graham cracker crust.
Pumpkin Chocolate Marble Bundt Cake is the perfect blend of pumpkin and chocolate swirled into a bundt cake.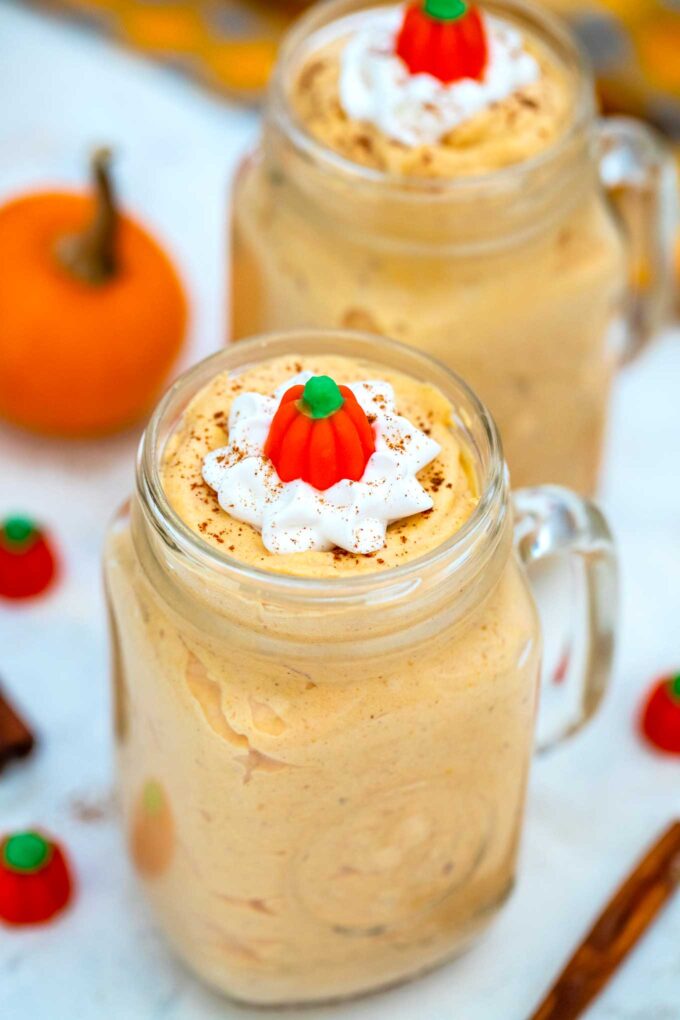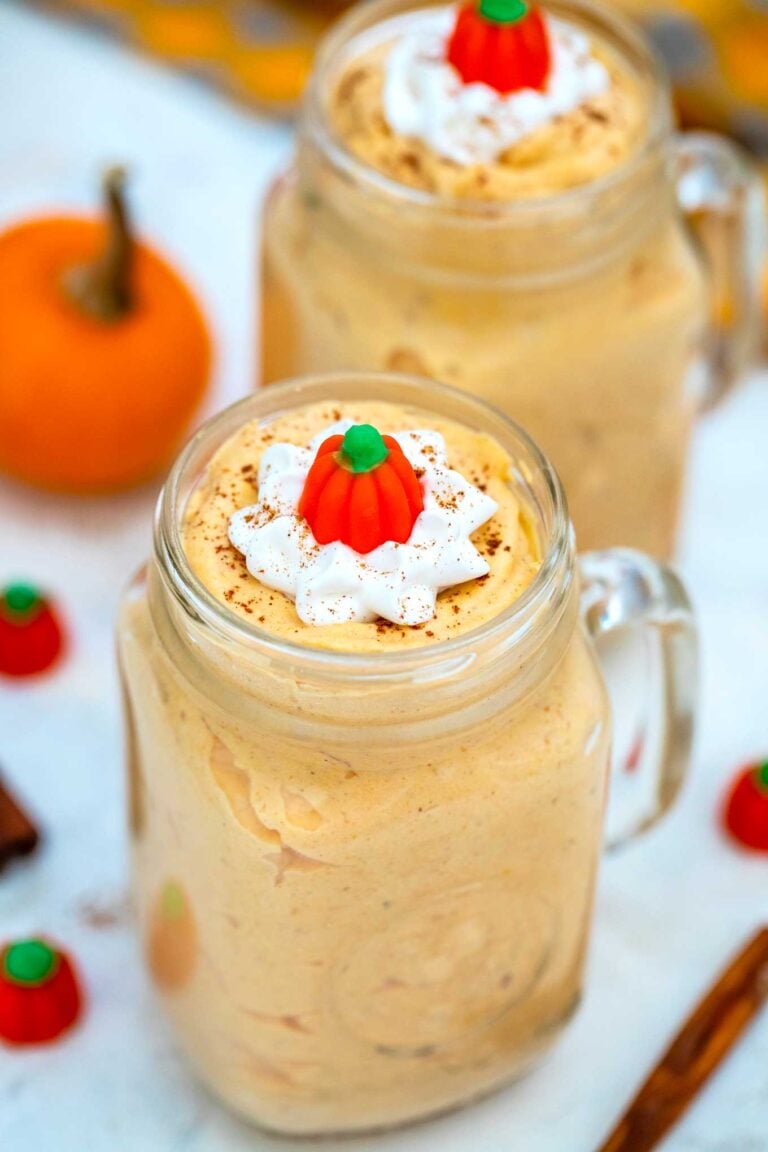 Pumpkin Mousse is smooth, light, and creamy! It has all the amazing flavors of autumn in one easy-to-prepare, no-bake dessert! We love a good no-bake pumpkin recipe!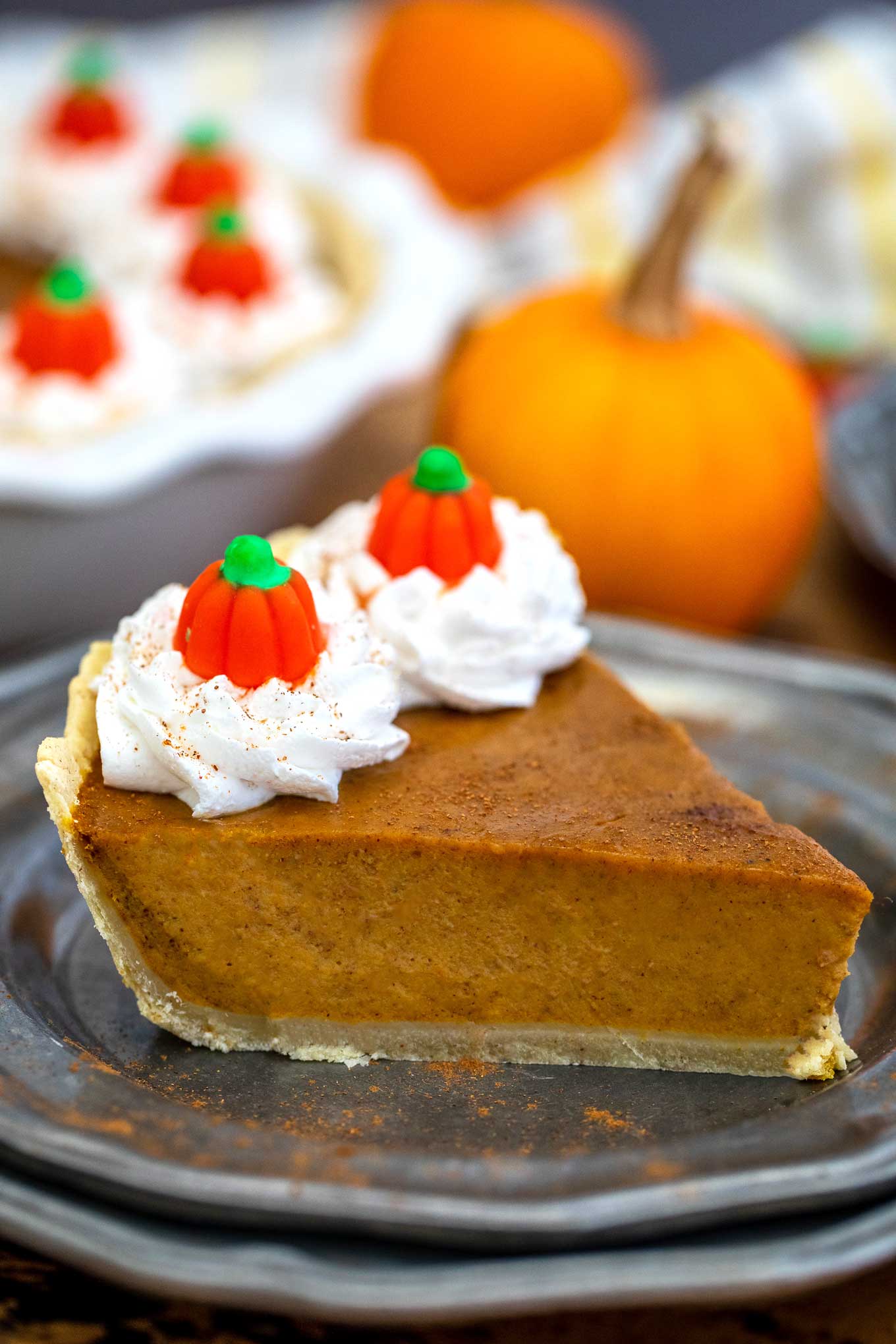 Homemade Pumpkin Pie recipe is easy and full of fall flavors that your guests will surely appreciate! With an easy no-fail homemade buttery crust, it is perfect for the holidays!
This no-bake pumpkin icebox cake is easy and delicious! A pumpkin lasagna dessert is perfect for Thanksgiving or any occasion!
This almost no-bake Vegan Pumpkin Cheesecake is perfect for your healthy holiday gathering. Creamy cashew based batter is filled with pumpkin!
This Easy Pumpkin Cobbler has a delicious sauce at the bottom with a cake-like middle and it's covered in a pecan crunch topping. This pumpkin recipe is a winner!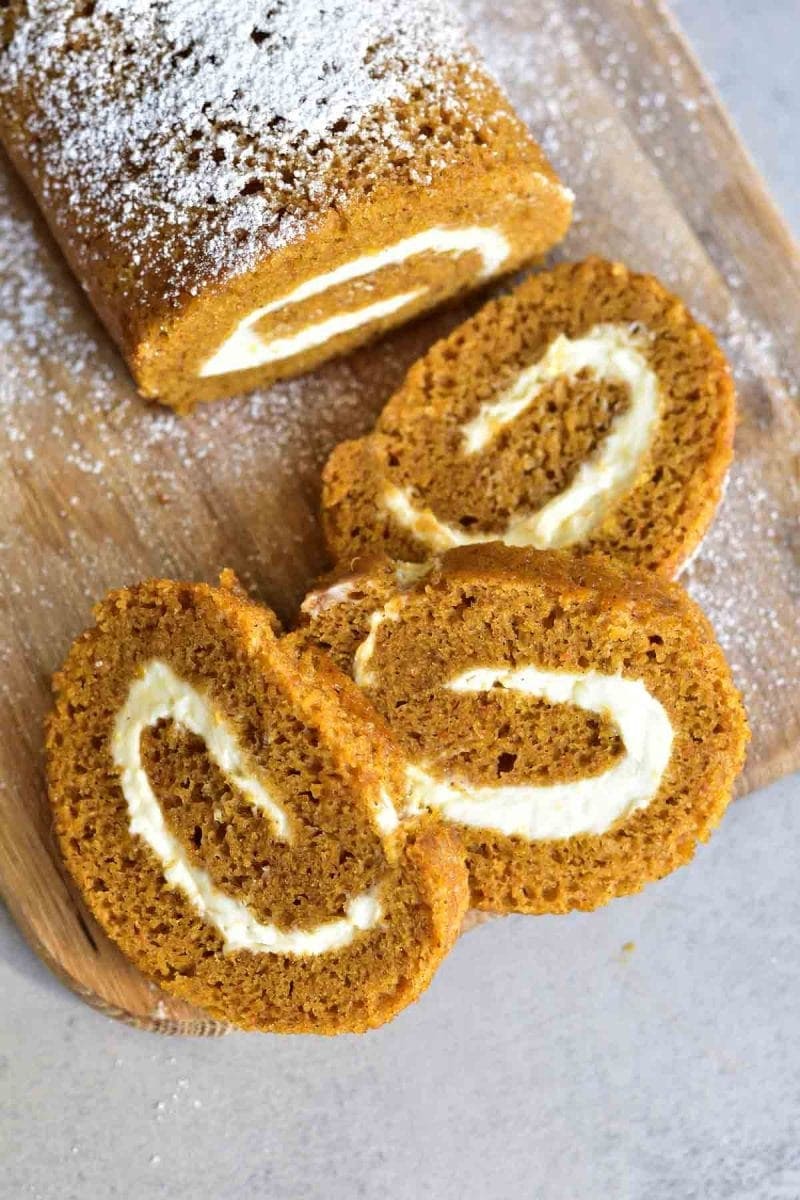 My favorite pumpkin roll is rich, perfectly spiced and moist. It may not look like it – but it's also very simple to make from scratch! It's filled with orange-flavored cream cheese filling, that is fluffy, creamy and not overly sweet.
Creamy and indulgent, this pumpkin coconut flan is everything you've been dreaming of!
This delicious phyllo dough pumpkin pie has a pumpkin & ricotta filling in the middle of flaky phyllo dough layers—a mediterranean twist on pumpkin pie! It is the most unusual Pumpkin Pie you'll ever try!
4 ingredients is all you need for these tasty sweet pumpkin cream cheese croissants! The easiest pumpkin recipe you'll try this season!
These brownies are moist and delicious, chocolatey, with a spicy pumpkin layer. Oh, and did I mention that they are topped with a candied pecan crumble? Yum!
Healthy and Easy Pumpkin Spice Truffles, delicious and rich in flavor, with only 64 calories each!
Get your low carb pumpkin fix with these delicious keto pumpkin bars. Creamy layers of cheesecake and perfectly spiced pumpkin pie sit on top of a buttery crust, making an irresistible keto dessert full of festive fall flavor.
This chewy, soft keto pumpkin cookies recipe makes the perfect fall dessert! See how to make healthy low carb pumpkin cookies with simple ingredients and less than 30 minutes! We love a good pumpkin recipe with no guilt!
This easy vegan Pumpkin Coconut Caramel Sauce recipe will fill your kitchen with warm scents of caramel and autumn – a delicious update on caramel sauce!
These vegan oatmeal cookies are busting with pumpkin spice flavours. They're soft and chewy, made using wholesome ingredients for a healthier cookie choice. They're vegan, gluten free, oil free, refined sugar free, and wheat free! All you need is one bowl, and around 20 minutes to get these oatmeal pumpkin cookies done!
---
PUMPKIN RECIPES: BREADS & BRUNCH
A delicious and moist pumpkin cake with a crispy streusel topping, and light glaze. The perfect delicious sweet breakfast cake! This is definitely one of our favorite pumpkin recipes!
Warm pumpkin and gluten free steel cut oats with hints of vanilla bean, cinnamon, and coconut sugar. They are just the perfect amount of sweetness to start your day. Chia seeds give the oats a wonderful texture and topping them with almonds gives a surprising crunch too. This recipe is also vegan, refined sugar-free, and dairy-free!
A simple and classic pumpkin bread recipe studded with chocolate chips!
If pumpkin pie pancakes sound delightful to you, these buttermilk pumpkin pancakes will not disappoint! Made healthier with no refined sugars, your whole family will love these easy pumpkin pancakes!
An easy & healthy pumpkin apple muffin recipe that's incredibly moist and chock-full of fragrant pumpkin pie spice, cinnamon & nutmeg. Pumpkin puree and applesauce lend moisture while the oats, apple chunks, and cranberries provide a bit of texture. These are basically like fall in a muffin! (Gluten-Free & Vegan Option)
This maple pumpkin bread recipe is filled with the flavors of fall. Topped with a maple syrup glaze and filled with spices, each slice of this pumpkin bread is unbelievably good.
Pumpkin French Toast or French Toast Casserole is perfect when the leaves change colors, and the cool crisp air arrives after a long hot summer. It's fun to unwind with a seasonal Instant Pot Breakfast like this Pumpkin Cream Cheese French Toast. With real pumpkin puree, brown sugar, pecans, and cream cheese, you'll feel so spoiled that you'll be looking for a reason to celebrate.
Easy, delicious and healthy pumpkin spice pancakes! A healthier pumpkin recipe to you'll definitely want to try this fall!
Moist and flavorful Vegan Pumpkin Muffins with Pecans. Made with pumpkin pie spices, coconut oil, and tahini. This recipe for pumpkin pecan muffins uses canned pumpkin and can be enjoyed any time of the year.
Moist yet soft homemade pumpkin bread with a hint of bananas and loaded with chocolate chips.
An easy recipe for homemade pumpkin butter sweetened with maple syrup. Make this creamy, thick, and fragrant "butter" on your stovetop in about 30 minutes using simple pantry ingredients & canned pumpkin puree (no apple juice needed). Use it as a spread on your favorite fall breakfast foods!
The Best Pumpkin Muffins that are so tender, easy, and packed with pumpkin spice flavor! You'll love dipping in melted butter and rolling in cinnamon sugar!
---
PUMPKIN RECIPES: SAVORY SIDES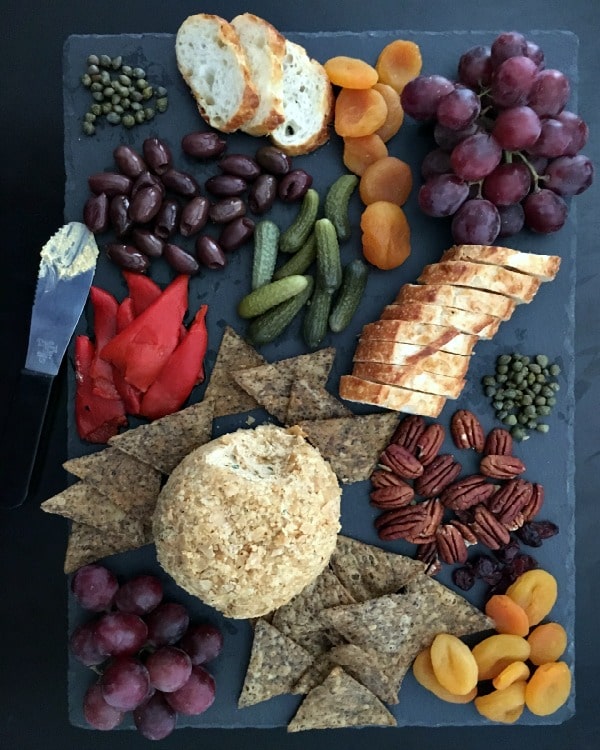 An easy recipe for an impressive appetizer that brings layers of rich flavor – the hit at any party!
Moroccan Spiced Roasted Pumpkin Quinoa Salad
The perfect start of fall healthy and light recipe, this Moroccan Spiced Roasted Pumpkin Quinoa Salad will easily win over anyone who tries it!
Pumpkin Dinner Rolls are egg free and filled with pumpkin spice flavor. This quick and easy pumpkin recipe makes the perfect bread for a fall family dinner!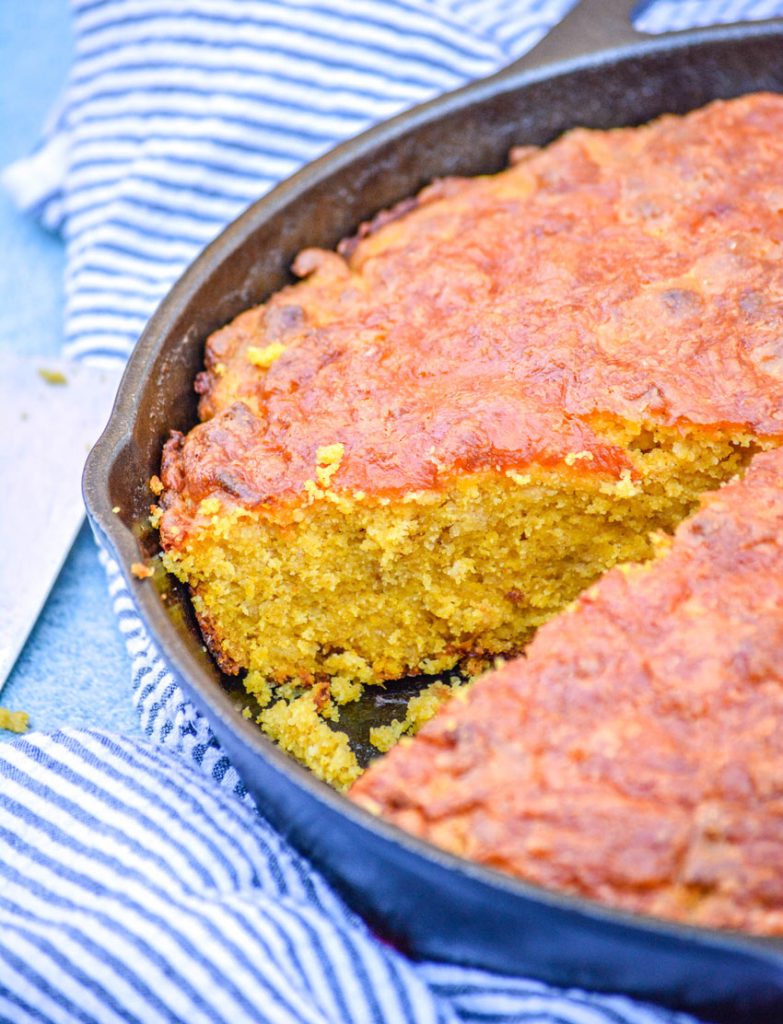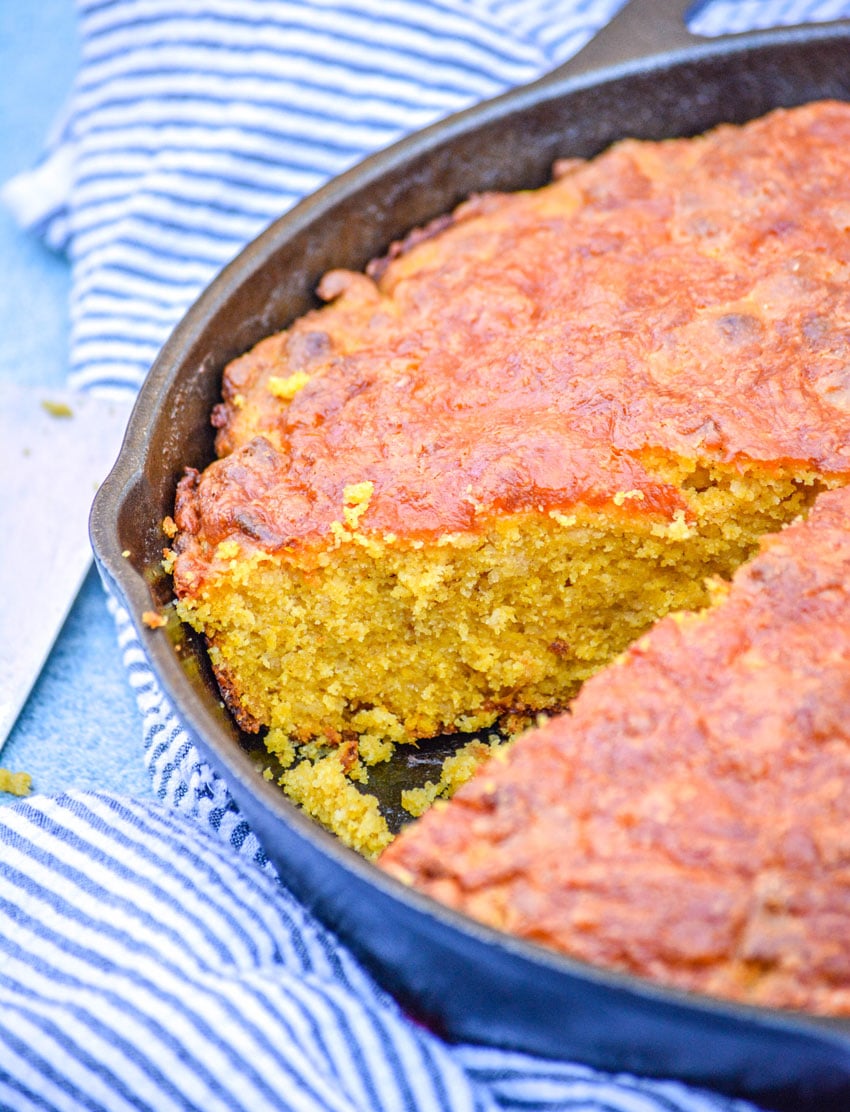 Easy pumpkin cornbread needs a place on your fall table. This skillet cornbread is lightly sweet from the pumpkin. Silky cream cheese and a hint of cheddar cheese make it extra luscious and a perfect fall side dish. And try this with our Skinny Turkey Chili!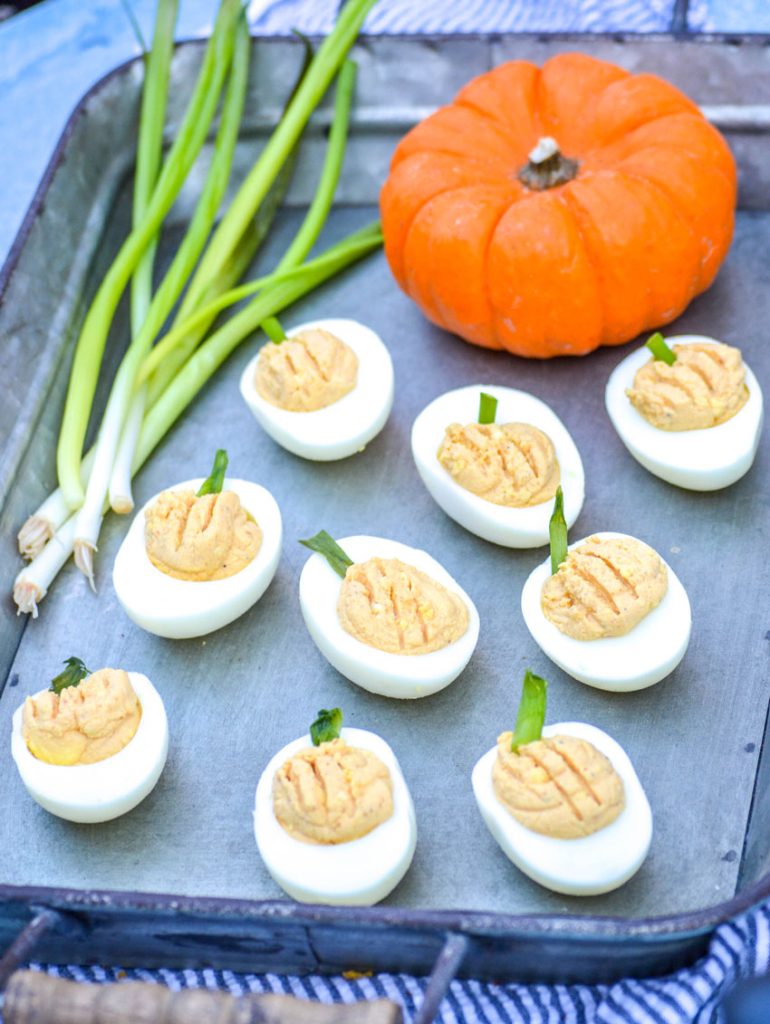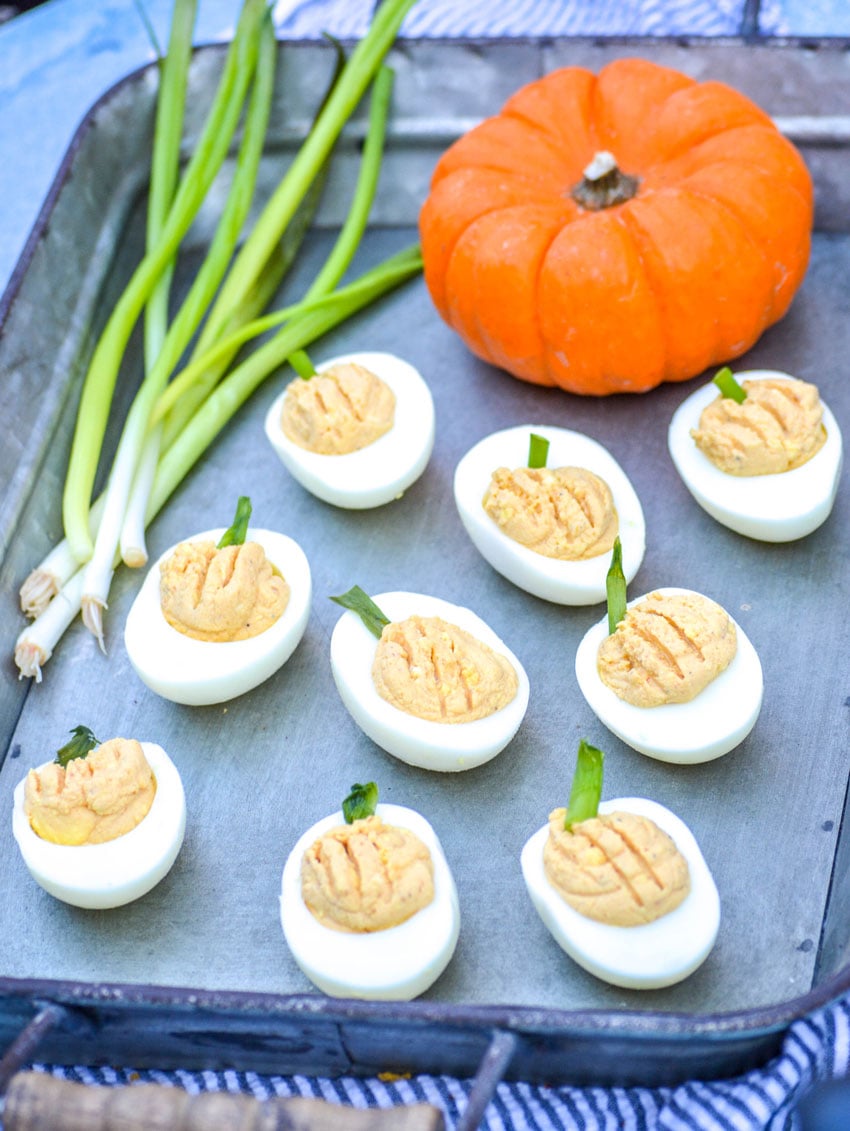 Delicious & adorable, these little bites of pumpkin-flavored Heaven are the perfect appetizer for Fall. Bring a platter of these pumpkin deviled eggs to the next Holiday get together and watch them disappear!
---
PUMPKIN RECIPES: DELICIOUS ENTREES

These vegetarian, fall inspired pumpkin quesadillas are made with lots of Mexican spices and are super quick and easy to make!
This unique creamy and comforting Pumpkin Curry Mac and Cheese casserole adds the earthy Fall flavors of pumpkin and curry to a traditional mac and cheese and includes Thai Chicken to turn it into a meal.
Pumpkin black bean burgers are jam packed with nutrients, perfectly moist, and oh so flavourful! These delicious patties offer a hearty bite combined with the natural sweetness from pureéd pumpkin that is really just mouth watering!
Skinny Cauliflower Pumpkin Fettuccine Alfredo recipe! A healthy, fall version of the classic alfredo pasta topped with toasted pecans, fresh parsley, and parmesan cheese, the perfect fall dinner!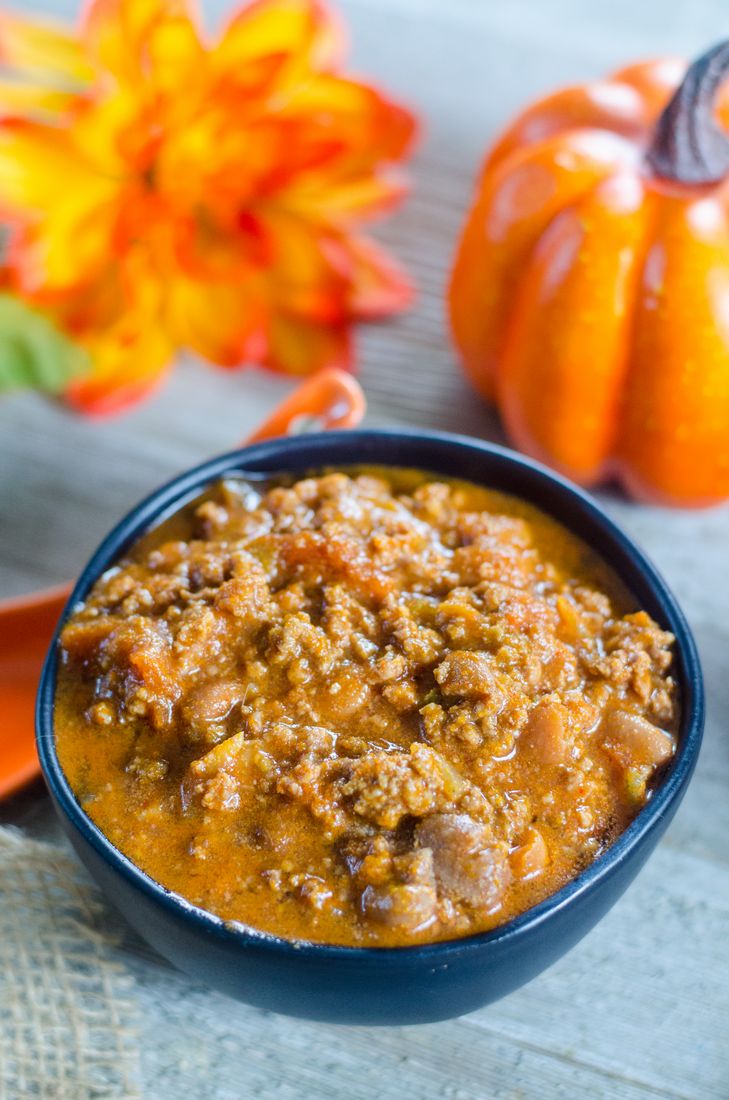 This easy instant pot chili recipe has a delicious twist to it: Pumpkin! Savory and easy and the chili and spices marry perfectly with the pumpkin flavor!
Creamy Parmesan Pumpkin Pasta is a flavorful and umami packed pasta dish. It's simple to make with just a few ingredients, and loaded with comforting ingredients such as parmesan, heavy cream and thyme for an indulgent and delicious dish!
This Vegan Pumpkin Black Bean Soup is rich and smooth with pumpkin-y goodness. It is oil-free and so is plant-based. You can whip it up in a matter of minutes!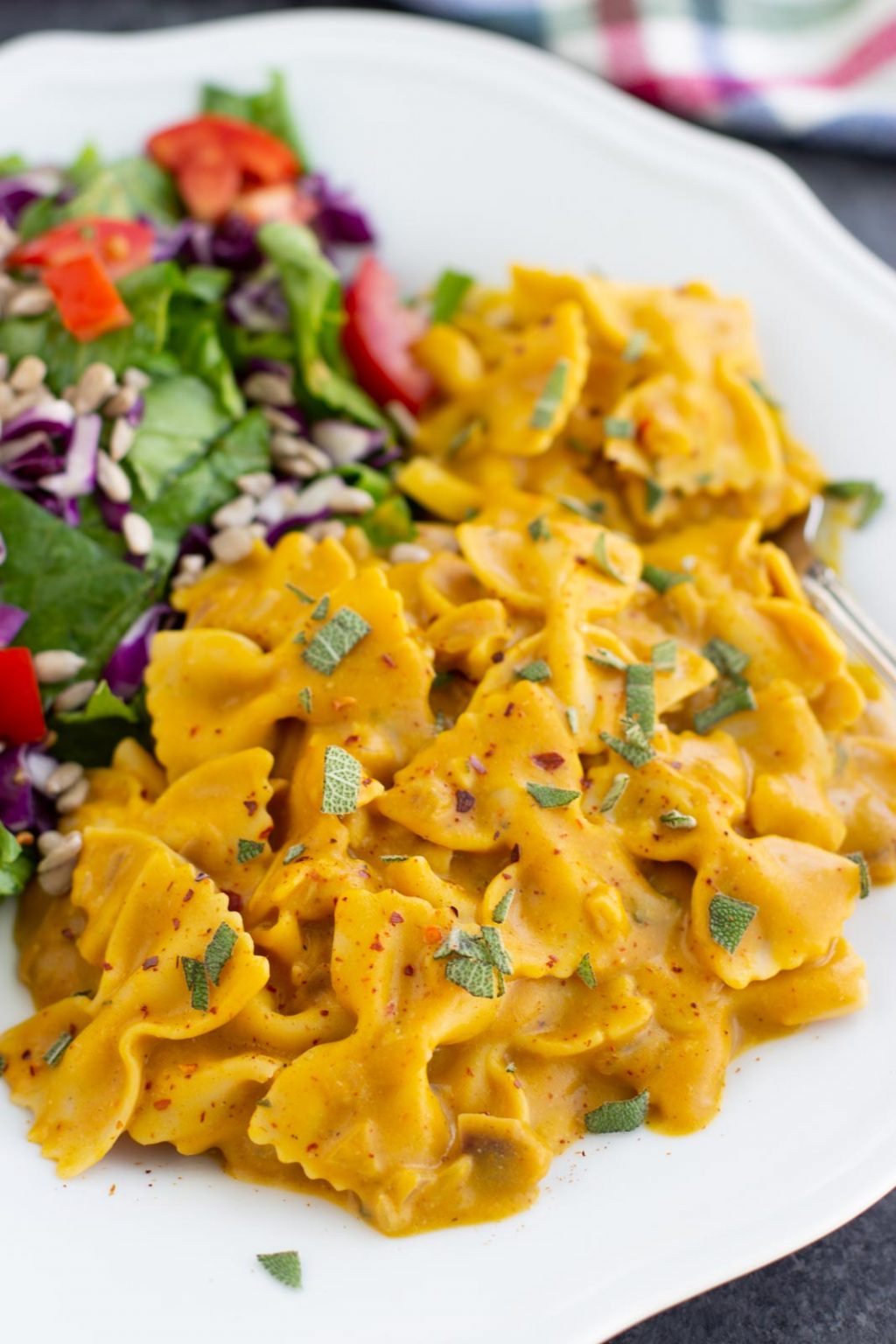 This intensely rich vegan pumpkin pasta is an essential fall-inspired cozy meal that you can make tonight in just 20 minutes! Fresh sage leaves, pumpkin puree, and a creamy coconut base give this pasta a decadent flavor that's sure to please any palate. Vegan, gluten-free, and oil-free.
The easiest ever, best and creamiest Instant Pot Mushroom Risotto is just a few ingredients and minimal effort away. Comfort food, quick weeknight dinners and lazy lunches is at your fingertips with this awesome Mushroom Risotto recipe.